Hollidays From 22th August to 2nd September

In our restaurant, greed is in the spotlight. She is the inspiration of the chef who, every day, likes to imagine dishes with local and seasonal flavors. Let yourself be surprised by dishes composed only of fresh products and cooked on site.
On the sunny terrace or in an elegant and modern room, take a seat for an inspired appetizer, followed by a tasty menu. The restaurant La Muse Bouche welcomes you in Poligny town center, from Tuesday to Saturday for lunch and dinner.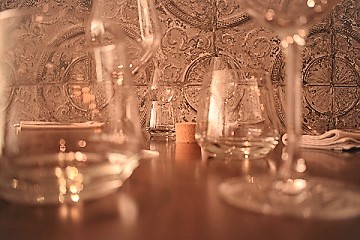 Zucchini Cream and Basil with Chips of Speck

Piece of Pork cooked at low temperature, with Trousseau wine Sauce

Fruty Millefeuille
Menu Complet 18 €  Entrée + Plat ou Plat + Dessert 15,00 €